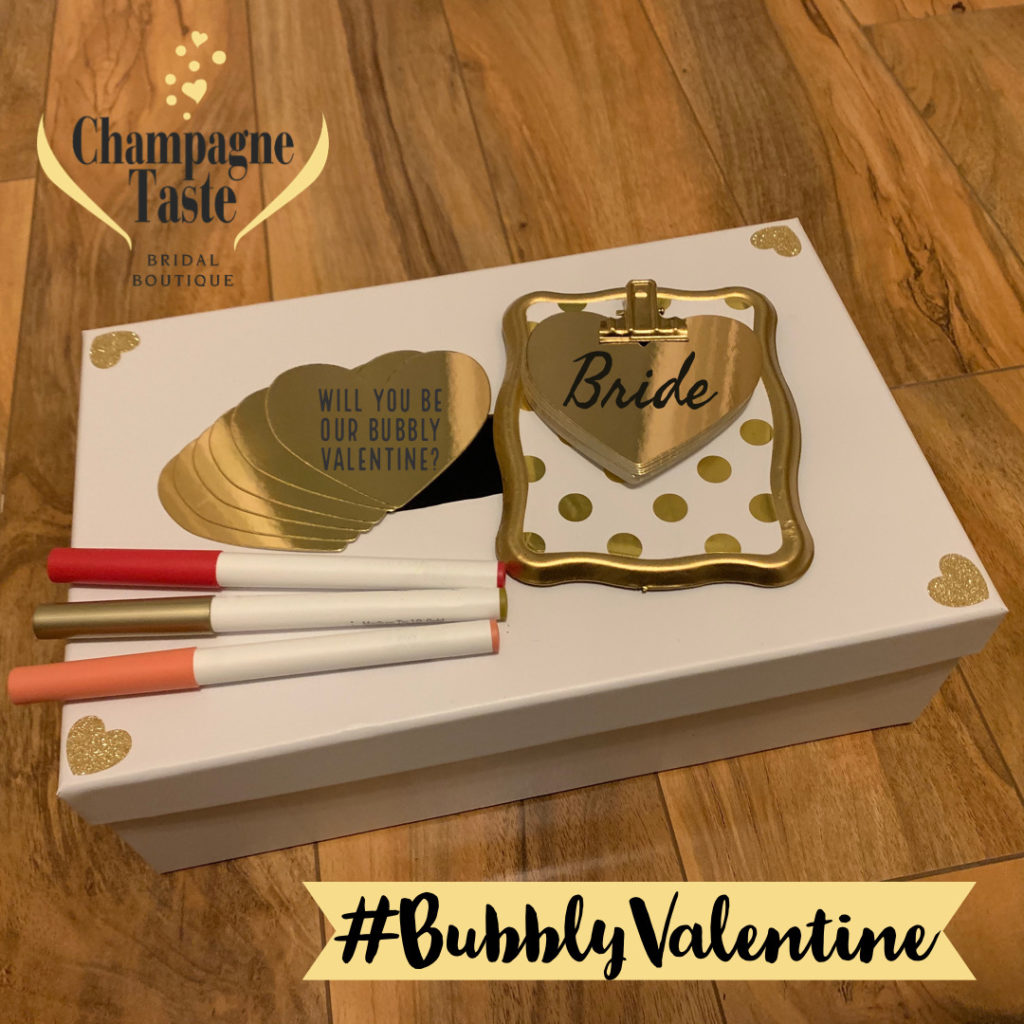 Attention Brides!! We have a Valentines Promotion going on from January 12th, 2020 – February 12th, 2020!
(Drawing will occur ob February 13th, 2020 – just in time for the weekend!)
Will You Be Our Bubbly Valentine?
Spend $850.00+ (pre tax) on your bridal gown between these promotional dates and you'll be entered to win a Visa Gift Card for a Valentine's Date Night with your fiance!!
Number of Entries vs. Prize
1-7 entries = $125 + mini bottle of Champagne
8-15 entries = $200 + mini bottle of Champagne
16-20 entries = $250 + Champagne Coach Wristlet
21-25 entries = $350 + a Champagne Coach Wristlet
26+ entries = a Champagne Coach Wristlet
We already have multiple entries in the box!! Will you be next? We have GORGEOUS gowns that just arrived and are ready to find their #PerfectBride
Disclaimer & Rules: This promotion is only valid for invoice paid in FULL (no payment plans) January 12th, 2020 – February 12th, 2020. This is valid for in-store purchases only. There is no cash value to this prize (the winner will receive a physical Visa Gift Card). This prize is non-transferrable. $850.00 minimum total must be on one invoice for a single transaction with one Bride recipient. The offer is not extendable and the appointment AND sale must fall within these dates. This is valid for ordered gowns and off-the-racks. There is a single entry per person regardless of invoice total. Must book an appointment online at www.ChampagneTasteBridal.com. Entries are physically added to the box and will be pulled LIVE on Facebook on February 13th with a time TBD. The coach wristlet and mini bottle of champagne additional gift(s) are already pre-selected and in our possession. The mini bottle of champagne CANNOT be shipped. The wallet is a mini wristlet style and is just that… a gift. There is no cash value or return value on these items. If it is not your style, gift the item. We thank you for participating and look forward to seeing who wins! If you have questions or concerns with this promo, please PM us!
Private Bridal Appointments
We offer private appointments so you and your guests can feel comfortable! We promise, even with our secondary appointment room we plan to launch in Summer/Fall 2019 you will NOT be standing on a pedestal next to another bride! We want your bridal experience to be tailored to you! 
Looking for a return on investment on a designer gown? We can help! We are very specific with the gowns we accept on consignment, because we want to be successful for you and provide gowns we know our brides will love. We offer a 50/50 split of the sale, which allows you to sit back and wait for a check while we put in all the work marketing the gown, caring for the gown, working with appointments and attending bridal shows to showcase our inventory. 
We offer measurements for gown purchased outside of our boutique for a small measurement fee. We offer FREE measurements for brides ordering gowns from us or bridesmaids ordering from our bridesmaid catalog. Though we don't offer alterations, we are happy to fit you in your gown (one purchased from our boutique) and make suggestions for alterations so  you can speak to an independent seamstress about implementing. 
We do not carry very formal wear samples in the boutique at this time, but we do have an extensive catalog that can be ordered from. Your consultant will take measurements and with proper fitting and/or any necessary alterations the gowns are usually a beautiful addition to any event! 
Some Designers We Have Available
The nature of our boutique is 90% considered "Off-The-Rack" meaning you fall in love with the gown you try on and you get to take that beautiful gown home for LESS than it originally retailed… an amazing deal! We also offer 2 lines that can be order to the closest bridal size, however, most of our off-the-rack gowns fit just as beautifully. Overall, whether a brand new gown or off-the-rack, alterations will be required, so definitely don't let that deter you! All of our gowns are of a high quality designer name and are in peak condition. We work very hard to find vendors, designers, and styles that we know our brides will love! 99% of the time you would not be able to tell the difference between one of our off-the-rack gowns and a gown that came out of our manufacturers box. We keep our gowns in the best condition!