Champagne Taste works hard to find a wide-selection of designer, silhouettes, and sizes that will appeal to the modern, pricy-savvy bride. Our highly-trained staff creates a world-class customer service experience for all of our clients, whether in our fitting room, on our social media sites, or in our virtual boutique. Our extensive marketing and networking efforts will help sell your gown faster and for a higher price point than what you can do on your own.
Your time is valuable..you want to sell a gown but don't want to deal with the work of finding and contacting potential buyers. And once that is accomplished, where do you meet them, where do you plan a fitting? Most are reluctant to meet in a strangers home, and the alternative of trying on a bridal gown in the restroom of Starbucks or Panera is a tragedy waiting to happen.
If you are interested in getting your gown sold quickly and easily, Champagne Taste is the right place. Contact us or click on our appointment link to make your appointment today.
After scheduling your appointment, please send over the designer name, style number and photos of your gown for approval to [email protected] If these items are not sent your appointment WILL be canceled. We must ensure the gown meets boutique criteria prior to any appointments. Also, please note that unfortunately we are NOT able to accept David's Bridal Brand gowns on consignment. Although the gown is probably beautiful, unfortunately DB gown's value changes far too often and we cannot guarantee the return on investment our consignors are looking for or fairness to our purchasing brides.
Can my dress be consigned?
If your dress meets the guidelines below, your dress is eligible to be consigned with us! Bring it in so we can further analyze if your dress is ready for consignment.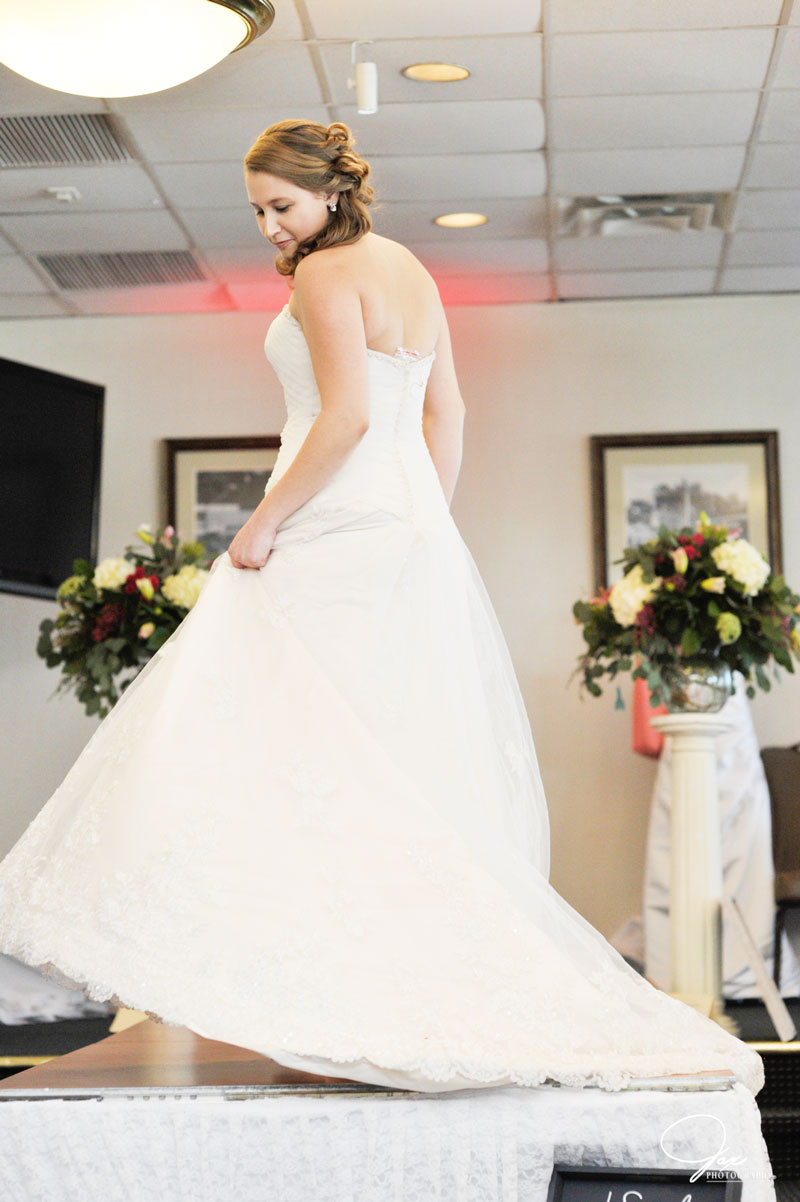 WHAT IS CONSIGNMENT?
Consignment is like a partnership. You have a beautiful gown you either wore or didn't wear and are looking to make some money back on it! So, you bring in your items and we let you know if we think it is something we can sell and display the item in our store. Once they sell, we split the selling price with you 50/50.
WHEN CAN I BRING IN MY ITEMS?
Consignment appointments are available through our scheduler! HOWEVER , the potential consignor MUST send over the designer name, style number, condition and photos of the gown. If these items are not received at least 24 hours prior to the appointment, the appointment WILL be canceled. 
WOULD YOU BUY MY ITEMS INSTEAD?
Unfortunately we do not. It is more likely that you will make more money on consignment than if an offer was even made.
HOW IS MY ITEM PRICED?
When you consign with us, we are in working together and we want your item to sell just as much as you do! We will price your items as high as possible, as deemed by the value of the gown, yet still make them marketable. We are willing to hear your input on what you want for your dress to sell for and all the details about the costs involved to purchase the gown. We will also consider the available locations to purchase the gown and what price points those retailers are setting.
CAN I PICK MY DRESS UP BEFORE 6 MONTHS?
No. In order to pick up the dress it must have stayed the full duration and be picked up within the 7 day window post the 5 day notification grace period. There will be a 25% of the sale price fee (50% of the commission lost) for early pick up.
CAN I ONLY CONSIGN MY WEDDING GOWN?
Absolutely not! Bring in LIKE NEW shoes, accessories, jewelry and belts! We will be happy to take a look and see if it is something we think our store can sell!
WHAT IF I HAVEN'T CLEANED MY GOWN YET?
No problem! We will apply an upfront fee of $225.00 at the time of signing and we will take care of the cleaning process and place the gown on consignment as soon as the cleaning is complete. There is a document you will need to sign to have this process completed, but other than that we will take care of the rest with our trusted vendors!
WHY SELL MY ITEMS WITH YOU AND NOT ON MY OWN?
If you consign with us, we do all the work and you'll earn more money! You are leaving all the advertising, customer service, email blasts, shows, and providing the opportunity for the most publicity your items can get!
HOW WILL I KNOW MY ITEMS HAVE SOLD?
That is the best part. You don't have to worry about it! We just send out the check! We have the item for six (6) months. If it sells during that time, you'll receive your check in the mail! If it doesn't sell you'll get an email asking for pick up within 7 days OR an addendum to extend the item's stay in our store!
HOW LONG IS MY DRESS AND OTHER ITEMS CONSIGNED FOR?
Your items are kept for six (6) months based on the initial contract. If it sells in the six (6) months awesome! You get a check! If it doesn't you will receive an email. From there you have 5 days to respond to the email. Once you respond you have 7 days to pick up (a scheduled pickup) from the store. If you do not pick up your items within the 7 day window or do not respond to the email within the 5 day grace period the item becomes the property of Champagne Taste Bridal. Overall, this is a courtesy email. It is the consignor's responsibility to know the 181st day of consignment (listed on the contract).
WHAT IF MY GOWN DOESN'T SELL DURING THE INITIAL CONTRACTED PERIOD?
We absolutely hope we can sell it within the contracted period, but unfortunately with bridal the gown has to be "THE ONE!" This means the gown may take longer than 6 months to sell. We will evaluate the interest that has been shown in the gown and see if re-listing for a 3 or 6 month extension is worth the additional time for you as the consignor!
WHAT IS THE COST TO CONSIGN?
To consign with Champagne Taste Bridal there are no upfront costs. However, when the dress sells there is a 50/50 split on the sale. All pricing is negotiated at the time of the contract being signed.
WILL MY GOWN STAY IN THE SAME CONDITION?
We get this question all the time! We will absolutely do everything we can to keep the dress in the best condition. However, with brides trying the dress on sample wear and tear should be expected, just as it occurred when you bought your beautiful gown!
APPOINTMENT INFORMATION
Prior to booking, the designer, style number, condition and photos of the gown must be sent to: [email protected] We unfortunately CANNOT accept David's Bridal Gowns on consignment. After the gown is accepted for consignment, by email confirmation, an appointment can be made online for a date and time that works best for you! The consignment contract will be reviewed during your appointment, but the policies and info is listed here on the website for advance review. 
If an appointment is made and we do not receive the requested information the appointment will be canceled. In addition, we do allow weekend drop offs, but often our Saturday's are booked, so please book well in advance for a weekend. However, during promotional weeks/weekends consignment appointments will NOT be accepted on weekends. Please see our promotional banner on our website homepage to check for any upcoming restricted dates.